Ganesha Enterprises Flagship Product a Finalist for International Innovation Awards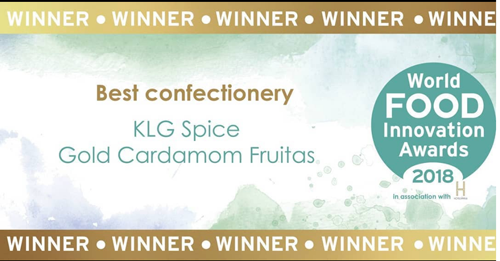 KLG Spice Gold Cardamom Fruitas Selected for Three Product Categories
CARSON CITY, NEVADA – February 26, 2018 – Ganesha Enterprises announced today that its flagship product, KLG Spice Gold Cardamom Fruitas, was named a finalist for FoodBev Media's 2018 World Food Innovation Awards. The company's flagship product, KLG Spice Gold Cardamom Fruitas, was selected in three categories: Best Confectionery, Best Convenience Food, and Best New Concept (www.foodbev.com/news/world-food-innovation-awards-2018-finalists-announced-2/).
The World Food Innovation Awards are designed to celebrate excellence and innovation across every category of the global food industry. Awards categories range from products, brands and catering to marketing, packaging, manufacturing, and sustainability. Winners in each of 20 categories will be named in a special ceremony at London's Hotelympia, on March 7, 2018.
FoodBev Media released the following statement, "The World Food Innovation Awards really showcase some of the most ambitious new products and developments of the year from a wide range of companies all over the world, both large and small. Keeping an eye on the finalists and winners is always a good way to spot the industry's next big trend."
"KLG is honored to be a World Food Innovation Awards finalist and in such distinguished company, said Karunesh Gupta, Founder and CEO of Ganesha Enterprises. "We are excited to share our food product innovation with an international audience, and proud to be recognized as an award contender for these prestigious awards."
Gold Cardamom Fruitas is the end result of infusing high quality Saffron and Cardamom Seeds together, and then coating them with 24k edible gold. Ganesha uses Gluten-Free, Halal, Kosher, and Vegan certified ingredients for its Gold Cardamom products which are digestible, biodegradable, and are made in the U.S.
Ganesha Enterpises, LLC (www.klgspice.com), is located in Carson City, Nevada. Established in 2007, Ganesha's confectionery and snack food manufacturing facility occupies 22,000 square feet in the state's capital city. The company's flagship brand, KLG Spice, is dedicated to creating innovative products and promoting the wellness and health of the global community while maintaining environmental responsibility. Products include gold covered natural spice breath fresheners and healthy snack and ingredient alternatives.